Are you ready to take your riding skills to the next level? Train with the Pros who ride for a living!
This is a state approved motorcycle training course.  In this course you will learn to master your clutch and friction zone, head and eye movement, feathering rear brake, throttle control, wheel placement and front wheel lock.  These techniques will teach you to be in full control of your motorcycle thus building your confidence in all kinds of situations.
Classes are conducted in a relaxed, low stress environment, by highly-qualified instructors.  This course is all riding, no boring lectures in a classroom.  If there are 6 or more riders they will be taught by 2 or 3 Certified Police Motor Instructors.
Riders will:
• "Bond" with their personal motorcycles and familiarize with the bike's full capabilities and limitations
• Learn and practice low-speed techniques that are perfect for those pesky parking lots and tight turnarounds (…and when you want to impress your friends, or passenger).
• Practice braking, evasive maneuvers, and hazard avoidance exercises that may save your ride and hide from serious damage, injury or death.
Intended Audience:
This course is intended for experienced motorcycle riders, who have a firm grasp of the basic skills of operating a motorcycle, but desire to become a better, safer, and more confident rider. This is a challenging course, so riders must have physical stamina to withstand a full day on the range.
Prerequisites:
• Motorcycle endorsement on license
• Ownership of a motorcycle: cruiser, touring, sport, dual-purpose (must be street legal).
• Motorcycle must have:
– Valid registration
– Valid inspection (where applicable)
– Valid insurance coverage
• Intermediate rider skill level
Required Safety Gear
 – DOT approved helmet
 – Eye protection
 – Above-the-ankle boots or shoes
 – Gloves (full-fingers)
 – Durable, long pants – no athletic pants of any kind
 – Long sleeve shirt or Jacket
There are no refunds of any kind given for this class. You must give a minimum of 3  business days notice to reschedule.  If ProRider Central Texas cancels the class for any reason you will be rescheduled or given a gift certificate that will be valid for one year from the issued date.  
Please contact us should you have any further questions about cancellations.
ALL CLASSES WILL BE HELD AT :
Meridian School
2555 North IH 35
Round Rock, Tx 78664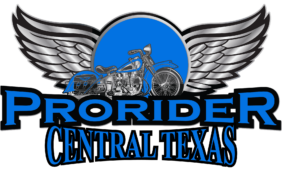 Follow Us On Social Media