**THIS IS A STATE APPROVED COURSE**
This is an 8 hour, challenging advanced rider course, located in the Austin Central Texas area. It is a combination of the Precision & Control Course and the Defensive Riding Course. This is for the rider that wants it all! This course will allow riders to learn how to better handle their personal motorcycle on the road and at low speeds. This program will incorporate the techniques learned and mastered by police motorcycle officers, and will improve the riding abilities of even the most seasoned rider.
At the end of this advanced rider course, participants will receive a successful completion certificate, as well as a refined skill set and newfound confidence. Some of the exercises practiced in this course include: Slow Cone Weave, Lane Change, Off-Set Weave, Single & Double 360, Iron Cross, Straight line braking, Brake & Evade, Rear End Crash Avoidance…. Plus More!
During the course we will also discuss the mental side of riding.  We will cover several defensive riding strategies we have developed through our riding experiences.  At ProRider CTX we believe the mental part of riding is just as important as improving your skill level. 
Invest in your skills your life might just depend on it.
I know some of you have been riding for years and may have developed some bad habits over time which could lead to trouble.  At ProRider Central Texas we believe that you should take a training course once a year.  This will help keep your skills and mental readiness sharp.  This will also make you aware of any bad habits you may have developed over time. At my department the motorcycle officers ride all year round but we still train twice a month. 
It is amazing how riders have no problem spending hundreds of dollars on their bikes with all kinds of upgrades, but they have a hard time investing in any type of training.  The new set of pipes or handlebars won't save you when that vehicle turns left in front of you or that car behind you fails to stop.  Unfortunately in 2018 there were 417 motorcyclist killed, almost 2,000 injured and nearly 8,000 crashes reported in state of Texas.   Drivers today are more distracted then ever while operating a motor vehicle.  My purpose is to provide you the skills that may help reduce these statistics.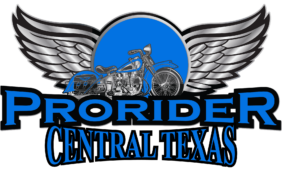 Follow Us On Social Media