"What a challenging advanced motorcycle course I took today. While I will always have room for improvement, I got a lot accomplished taking the ProRider course in their new location in Round Rock, Texas. My instructor was Paul Harper. He is the head of the Austin Police Department's Motorcycle training division. He took us through some rigorous maneuvers today and really helped me improve my tight turning and u-turns. Now I gotta practice what I've learned on a regular basis. I highly recommend the ProRider course for anyone wanting to improve their slow ride. And if you're near Round Rock, Paul's the guy to teach you some skills. Paul was a great instructor. I'm glad he was mine as I had some real concerns especially with the 360. He was very encouraging and very professional. Great communication skills."
I have wanted to take this course for quite some time and was thrilled when I found we had a ProRider team in RR. I ride a big, heavy bike. So slow speed control is critical, because I don't like trying to pick this thing up by myself. ProRider Central Texas provides you with the knowledge, skills and encouragement to master the low and slow. Paul and Greg are very passionate about safety and motor skills and it comes across in the first minute you meet them. The Advanced Rider course is 8 hours on bike practice. No boring classrooms. It can be (and should be) repeated often in order to master the skills .I have a newfound respect for the riding skills of our boys in Blue, and new goals to master that damned Iron Cross. ""
"I just wanted to share with riders in the Central Texas region of the new course I took this past weekend. The instructors are local police motorcycle officers and I felt they genuinely were interested in sharing their knowledge, training, and experience with other motorcyclists. In fact, on separate occasions, I heard them say they want to give back to the [motorcycle] community.The rate is very reasonable for a day's worth of training, and I received great instruction/training modeled after a police motor officer training curriculum. Technical street skills everyone should know and practice. Worth your time. "
"Paul was an excellent teacher with great knowledge! I'd definitely recommend this to anyone that rides, whether you have 20 years experience or 1. There's always something to learn and Paul did a great job teaching it! The combination of Paul's passion for the topic and gift of instruction resulted in an engaging and insightful class. I was prepared to go through a mandatory process for licensing and ended up learning important skills and building my riding confidence. I look forward to my teenage daughter attending Paul's class next year. Thanks to Paul for making it real and interesting. Pura Vida "
" Excellent instructions and good exercises. Great way to refresh and brush up your motorcycle skills no matter how many years you've been riding. Paul Harper is a professional Motorcycle rider of many years and I've personally witnessed Paul demonstrate an exceptional skill level while negotiating very advanced, intricate and combined cone patterns. I've also witnessed his calm professional demeanor and respect quickly gained by students new to riding as well as those with many years of experience. I strongly support and recommend Paul as a top level elite Motorcycle instructor. "
"Paul and Greg truly want to share their years of training and experience with every student. They want to help you in unlearning some of your bad riding habits and replacing them with proper, safe riding techniques. They will give you the tools to improve your riding skills and make the rides even more fun."
" It's been difficult to find a training course that will be challenging for those that have been riding for several years, and have gone through the basic, and even 'advanced' courses offered through MSF. I had been looking for additional training courses for a while here in central Texas, and ProRider finally popped-up. I took a class with Paul Harper on 6/22, and it was fantastic. Over the 8 hour day, we worked towards building on current skill levels, and improving our slow speed maneuvering, as well as higher speed emergency drills; swerves, braking, and the like. It was absolutely worth spending the day on the range working with a professional motorcycle rider, and working on exercises laid out to tighten up some things that honestly, I thought were second nature. I have seen remarkable changes in my riding efforts in these last few weeks, and I'm constantly recalling things he pointed out, or shared during the day. It may seem simple enough to remind all riders to get out and practice on their own, but in order to hold yourself accountable, really push your efforts and commit to the fundamentals, it's best to work with a guide. Paul Harper was a FANTASTIC guide. I'm very thankful to Paul for putting in so much effort with us. He was patient and explained how to make the necessary corrections in order to complete the exercises. He worked with us and not just with the textbook, took his time to explain the why's and He was patient and explained how to make the necessary corrections in order to complete the exercises. He worked with us and not just with the textbook, took his time to explain the why's and how's of it all, and gave us the tools to see consistent improvement. I am so glad that I found ProRider Central Texas and can't wait to take another course with them. "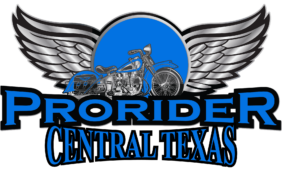 Follow Us On Social Media