Are you ready to take your riding skills to the next level? come practice with the ones who ride for a living!
ProRider Central Texas is planning on adding several practice sessions throughout the year, where riders can come to improve their skills.  The practice sessions will consist of multiple cone patterns exercises with different levels of difficulty that will accommodate all riders.  The practice sessions will start at 8:30am and end around 4:30pm.
These sessions are $100. There are only fifteen (15) spots available per practice session.  Practice sessions will be held on a Saturday or Sunday at the Killeen Special Events Center, located at, 3301 S W S Young Dr. Killeen, TX 76542.  
The flow of the practice sessions will be as follows:
We will go over each exercise in detail with a demo ride.

Riders will then be able to practice any of the patterns at their own pace. 

We will walk around and give tips and answer any questions. 

There will be music and great fellowship with a fun and relaxed atmosphere.
  Requirements:
Riders must have a "M" endorsement

Street Legal Motorcycle

Current insurance

Valid Registration 

Rider must wear a DOT approved helmet, long sleeve or Jacket, Durable long pants, over the ankle footwear. 
Intended Audience:
The practice sessions are intended for riders who have already taken the ProRider Central Texas Advanced course or an equivalent course. Or riders who have a firm grasp of basic slow speed riding techniques.  
All riders MUST complete a "HOLD HARMLESS AGREEMENT" form prior to participating in a practice session.  I will post the date of the practice sessions at least a month out.  If you would like to be added to the email notification list, send an email to prorider.ctx.club@gmail.com and include your name and that you would like your email address added to the  email notification list. 
Exercises:
Exercise #1 – Straight Line Cone Weave
Exercise #2 – Offset Cone Weave
Exercise #3 – U-Turns
Exercise #4 – Right / Left Turn From A Stop
Exercise #5 – Keyhole 
Exercise #6 – Double 360
Exercise #7 – Intersection(Iron Cross)
Exercise #8 – The W
Bonus Exercise – This will be several cone patterns put together
**Exercises may vary**
PRACTICE SESSIONS WILL BE HELD AT :
Killeen Special Events Center
3301 S W S Young Dr.
Killeen, Tx 76542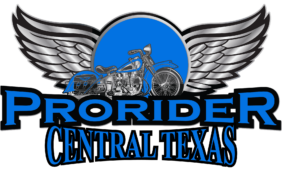 Follow Us On Social Media