Your Home For Advanced Motorcycle Training
Advanced Motorcycle Training Taught By Professional Motorcycle Officers
ProRider Central Texas is your resource for advanced motorcycle training in the Austin Central Texas area.  Our mission is to provide our clients with the most unique training experience available.  You can't afford to miss this advanced course your life may depend on it.
YOUR RIDING SKILLS ARE ABOUT TO CHANGE FOREVER
This 8 hour advanced class is state certified and includes a certificate that most insurance companies will honor with a discount.  this course can also be used for ticket dismissal. 
We also offer a discount for Active military, veterans, first responders, Groups Of Friends, Motorcycle Clubs and returning students!
THE #1 BEST SELLING MOTORCYCLE TRAINING VIDEO COURSE IN THE WORLD!
Do you dread making tight U-turns and low speed maneuvers? Do you have to "duck walk" your bike or drag your boots when making tight turns in confined spaces?
This online course will teach you to master the same skills and techniques used by Motor Officers across the country.
You're not going to learn these ADVANCED techniques at any MSF, A.B.A.T.E. or Harley Riding Academy type school.
There are NO monthly fees, this is not a subscription.  Just one payment and you get immediate lifetime access! Plus access to 31 cone patterns.
MASTER EXTREMELY TIGHT TURNS WITH EASE!
LEARN THE MOST EFFECTIVE EMERGENCY BRAKING TECHNIQUES!
GAIN CONFIDENCE LIKE YOU NEVER EXPERIENCED BEFORE
Click the FREE LESSONS button below to check out 3 video lessons from BJ McMullan, President and CEO of ProRider Motorcycle Training for FREE!
LOSE THE FEAR OF DROPPING YOUR MOTORCYCLE!
Slow Speed Drops are totally different from stopped tip overs, and will happen sooner or later.
Protect the Value, Appearance, and Functionality of your Factory Parts.
Master Advanced Riding Skills that can save your life without fearing dropping your motorcycle.
Its your life, your investment, and your choice!
Click on button below to visit Motorcycle Drop Guards website
(Use discount code: CtxPro10 for $10 0FF)
MOTORCYCLE LICENSING COURSES
If you are looking to get your "M" license The Ride Company is Friendly, Affordable, and Accommodating. The Ride Company offers the Motorcycle Safety Foundation BRC and BRC2 curriculum.
Whether you're a beginner who needs a Basic Rider Course, or are an experienced rider needing an "M" license, Total Rider is the place to learn the necessary skills of motorcycle operation and safety. Our MSF-Certified coaches have instructed over 30,000 Central Texans, and we look forward to teaching you!
IF YOU HAVE QUESTIONS ABOUT THE CLASS OR INTERESTED IN A PRIVATE ONE-ON-ONE OR PRIVATE GROUP CLASS PLEASE CONTACT US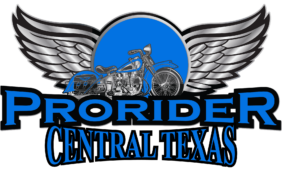 Follow Us On Social Media
PRORIDER CENTRAL TEXAS, LLC